Emerson's Story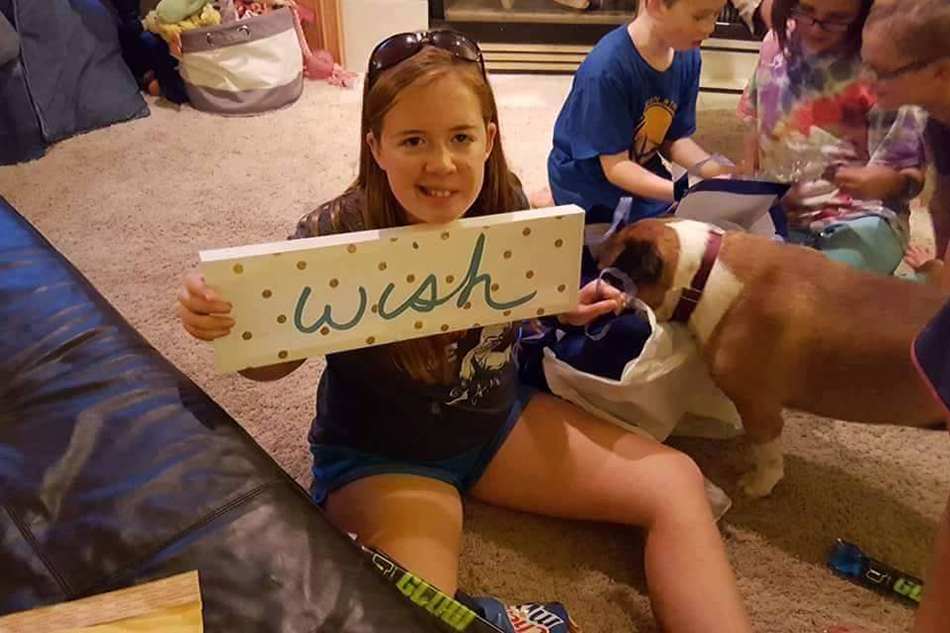 A few weeks before Emerson's 10th birthday, a routine annual eye exam revealed some jumping of her eyes when she tried to focus far to the left or right. At first, the doctor thought there was nothing to worry about and encouraged her to follow up with her pediatrician. After several doctor appointments and an MRI, doctors sat her parents, Gary and Kim, down to tell them the life-changing news Emerson had a brain tumor.
"I will never forget sitting across from her neurosurgeon and oncologist, staring at that large tumor and not knowing what it meant," Kim said.
Emerson's 10th birthday party was planned for the very next night, so her parents decided to let her enjoy her special day before delivering the news that would change her life.
Soon, Emerson and her family were thrown into a world of doctor's appointments, scans, tests and fears of surgery. Emerson was worried about losing her hair, having the tumor removed and having to spend time in the hospital away from her friends. The two weeks before her surgery were filled with anxiety and headaches.
"There was lots of lying in her bed with her and trying to answer questions I really didn't know the answers to. I would try to be strong, and then go cry in the shower," Kim said.
A little less than a month after her diagnosis, doctors removed most of Emerson's tumor during a 10-hour surgery, but had to leave a small bit because it was so intertwined with vital nerves. Because of the remaining piece of the tumor and the surgery, Emerson now has trouble swallowing, she's deaf in her left ear and her balance is off which has led to injury, like a broken ankle. Worst of all, paralysis on the left side of her face means she can't fully smile.
"I think one of the hardest things for both Gary and I was seeing only half her smile and not knowing if we would see it again," Kim said. "We both mentioned to one another that going home and seeing all the pictures with her full smile was devastating. My artwork on our walls at home is all of my three children's faces and now, in one day, everything had changed."
Since her first major surgery, MRIs have shown that the shell of the tumor the doctors left behind has grown. Since the fall of 2015, Emerson endured almost seven weeks of proton radiation therapy in the hopes that it would destroy the tumor and a facial surgery to restore her smile on the left side of her face. She has been in and out of the hospital for several different procedures to help her chew and swallow, strengthen her vocal chords and try to rebuild her smile all side-effects of her tumor. She'll likely have another facial surgery soon this time doctors will take a muscle from her inner thigh and connect it to the nerves that control her smile.
Besides painful procedures and long recovery times, Emerson has missed countless days of school, activities and time with friends. Her mom says one of the most difficult things to watch is when Emerson has to miss out on the kinds of fun activities that girls her age take for granted.
At Emerson's 13th birthday party this past April, Kim overheard Emerson's friend ask what she would want for her birthday if she could have anything in the world. She answered, "Not to have a brain tumor and just to be a regular girl for once." Kim said hearing this filled her stomach with dread and flooded her of memories of times that Emerson missed out on the things a 13-year-old should be enjoying.
Thankfully, this reminder of the difficulty of Emerson's struggle was followed by a reminder of how she's made it through it all when her friend replied, "Emerson, you are the strongest person I have ever met."